Award Winning Carpet Cleaning Newport and Gwent
We are a family owned, award-winning business providing 100% guaranteed and insured upholstery, rug and carpet cleaning in Newport and the surrounding Gwent valleys.
We have invested in the absolute best machinery and products in the industry and I take enormous pride in the results and service that we deliver to our customers.
Hiring an experienced carpet cleaning company will save you a significant money in comparison to replacing your carpets and upholstery.
But it is important you make an informed choice so you get a company you can trust to get the best results possible.
If you live in Newport or Gwent, here are just 3 reasons why you should choose us for carpet and upholstery cleaning:
1. Our method of cleaning (HWE) is recommended by most carpet manufacturers. Our methods  extract all the soiling and excess moisture from your carpets and upholstery, leaving them beautifully clean and dry.
2. We're TACCA approved. We're members of The Approved Carpet Cleaning Association, which means we must meet the strict minimum entry requirements, which includes operating machinery of sufficient power and holding full insurance.
3. Unbeatable results and honest pricing. Our results and testimonials speak for themselves. Years of experience have enabled us to build the knowledge to tackle all stains and spots – there's literally nothing we haven't seen. And the price we quote is the price you pay, with no hidden costs.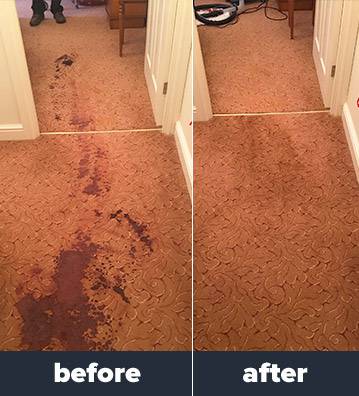 "But my carpets don't look dirty."
Well, appearance isn't everything!
Regular professional carpet cleaning is firstly for your family's health, and only secondly for appearance.
The average home harbors over 2 million dust mites that feed off dead skin and other debris. Microscopic mite faeces and dead mites are so small that they blow up into the air as you walk around your home.
Eighty percent of people who suffer from allergies are allergic to dust mites.
They are one of the biggest causes of many common allergies!
To limit the effect that dust mites have on your family's health, you need to have your carpets and upholstery regularly professionally cleaned.
How often?
I recommend once every 12 months with perhaps a 6 month clean if you have children and pets.
FREE, NO Hassle, NO Pressure Quotation
Finally, if you think that you would benefit from our professional carpet and upholstery cleaning service in Newport and Gwent, please do give us a call.
A free quotation only takes about 10 minutes and and there is absolutely no pressure to book our services at any point.
Call us now on 0800 028 2788 or 07530 532208
https://edwardsjefferycarpetcleaning.co.uk/wp-content/uploads/2013/09/ejcarpetclean-logo.png
0
0
edwardsjeffery
https://edwardsjefferycarpetcleaning.co.uk/wp-content/uploads/2013/09/ejcarpetclean-logo.png
edwardsjeffery
2014-05-08 09:13:42
2020-02-10 09:57:57
Carpet Cleaning Gwent