and Loved Awards
Upholstery Cleaning Local
1st Place UK Carpet &
Multi Award-Winning
Difference
Carpet Cleaning With A
Simply Stunning Results.
Award-Winning Carpet Cleaning Cardiff & South Wales
We are a multi-award-winning, independent business providing unbeatable upholstery and carpet cleaning Cardiff, Bridgend, Swansea, and throughout South Wales.
Unlike many cleaning companies, we're not generalists or a "jack of all trades"- instead, we offer a high-quality, premium service, specialising in the cleaning and restoration of carpets, upholstery, stone flooring, rugs and leather furniture.
Effective carpet and upholstery cleaning requires a high level of skill and knowledge; the best results and hygiene are only attained through the combination of the most powerful machinery, ongoing professional training and years of experience in removing stubborn stains.
We have cleaned and restored literally thousands of carpets, floors, sofas and rugs for home owners and businesses throughout Cardiff and South Wales for over 10 years.
We've even worked for Laurence Llewellyn Bowen and the BBC, restoring rugs for the popular TV show, Changing Rooms.
Here's what Laurence himself thought of our service, via a producer from the BBC:
"I wanted to let you know that Laurence Llewellyn Bowen was amazed at how well the rug had come up with cleaning, and wanted me to tell you what a great job you had done on it."
Our carpet cleaning process is meticulous. We don't cut corners and all our customers get our full comprehensive service – whether it be just a single, small area of carpet you need cleaned, or a large fully furnished home.
Multi-Award Winning Upholstery and Carpet Cleaners in Cardiff
Twice voted the "Best Business in Town", we also placed 1st in the UK for the carpet and upholstery cleaning sector of the 2015 UK Local & Loved Awards – an award voted for by the customers of carpet and upholstery cleaning companies.
(We were also placed in the Top 100 out of all UK businesses entered into the awards).
Hiring an experienced, fully insured and professionally qualified carpet cleaning company can save you a small fortune in replacement carpets.
And so it is important you make the right choice in choosing a company you can trust to get the best possible results and one that will treat your home with the respect it deserves.
Carpet And Upholstery Cleaning Results
Hiring a poorly trained, part-time operator with sub-standard equipment and without insurance inevitably proves to be a costly mistake!
The results of a carpet or upholstery clean depend entirely on the quality of machinery used, the skill and knowledge of the technician, and no little hard graft!
We are professionally trained, fully insured and we have invested in the best machinery and products in the carpet and upholstery cleaning industry.
I take enormous pride in the results and service that we deliver to our customers and I back this up by offering you a 100% guarantee for our work:
If you're not happy we have carried out the work to the best of our ability, we will return and re-clean for FREE.
Think All Carpet Cleaning Companies In Cardiff Are The Same?
We believe that we're the best at what we do.
Whereas many companies cut corners, employ untrained staff and operate under-powered machines, we're at the cutting edge of the industry and are painstaking in our attention to detail.
We embrace the latest advanced technology, including the most powerful van mounted machine in South Wales which delivers unbeatable results.
Our unique, tailored approach sets us apart from the large national companies and franchises, and also from part-time operators that often use inferior, cheap equipment.
This is what sets us apart.
Call Now: 0800 028 2788 / 02921 990189 / 07530 532208
Our Carpet and Upholstery Cleaning Machines
The quality and cost of machinery varies hugely (therefore so do the results)…
There are companies that set-up out of the back of a car or van with little or no training or insurance, second hand machines worth just a couple of hundred pounds and no experience (the cost of carpet cleaning machines can range from as little as £100 to over £30,000!)
This means some companies can charge very cheap prices but leave you exposed to all manner of potential problems.
We choose to do things properly.
We have always invested in the best machinery we could afford, which meant we started with the powerful Airflex Storm before eventually purchasing two Hydramaster Boxxer 423s – the carpet cleaning industry's leading carpet cleaning truckmount machines.
These powerful petrol-powered units are currently mounted in two of our vans and provide unbeatable performance and attain far superior results to the cheap electric portables that most carpet cleaning companies operate.
It is quite simply the most powerful carpet cleaning machine operated by any company in Cardiff.
Rapid Carpet Drying Times & Unrivalled Results
Overwetting a carpet or upholstered sofa can cause all manner of problems, including browning, lasting foul odours and shrinkage.
These problems are avoided by using the correct processes, techniques and cleaning solutions, along with equipment that is capable of handling the task.
Our carpet and upholstery cleaning methods are very fast drying, family and pet safe, and convenient.
You can expect dry, fluffy carpets in as little as 1 -2 hours.
7 Reasons Why You Should Choose Us:
1. Powerful Truckmount Carpet Cleaning: We use a petrol-powered truckmount machine that is so powerful and effective, we guarantee you won't get better carpet or upholstery cleaning results from any other company.
2. Long Lasting Deep Clean: Our carpet and upholstery cleaning methods clean deep into the pile and fabric, not just buffing the surface. Unlike carpets cleaned by cheap machinery, our process means your carpets and upholstery stay clean longer because all the dirt is extracted and no residues left behind.
3. Eliminates Allergens and Bacteria: Our high-powered steam extraction process kills germs, bacteria and dust mites, removing them from your home. Indeed, 98% of carpet manufacturers recommend our method of carpet cleaning.
4. Honest Pricing: No hidden costs, no sales gimmicks, and no hard sell. All prices are quoted up-front and we do not differentiate between a "normal" or "special" cleaning process. Our service ALWAYS includes the best techniques, with maximum effort. All individual stain removals are included in the price. The only optional added extra is our stain protector.
5. Fast Drying: Because we use high-powered state-of-the-art machines, we immediately extract 95% of the moisture from your carpets, leaving them bone dry within a couple of hours. Our methods are convenient, family and pet safe, and incredibly effective.
6. Local and National Award Winners: In addition to picking up the 1st place award in the UK Local and Loved Awards for the best carpet and upholstery cleaning company, we've also been voted Best Business in Town in the last two consecutive years.

7. Independently Verified Reviews: As part of our awards applications, all the reviews for our work and are independently check and verified. We pride ourselves on our honesty and integrity and we stand by our 100% guarantee.
(Important: Don't Choose Any Carpet Cleaning Company Before Reading This First)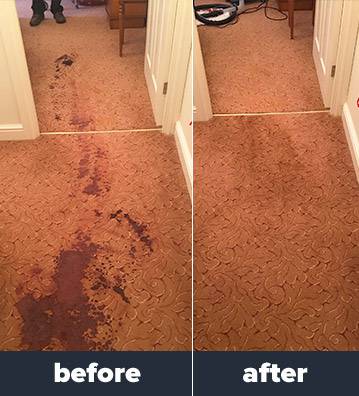 Spotlessly Clean, Fresh & Dry Carpets, Upholstery and Rugs
We cater for residential and commercial clients, and we use the same advanced equipment and techniques for a small residential carpet stain removal job, as we do for large commercial contracts.
The result is that your carpets, upholstery, rugs and flooring will look like new, smell fresh, and be left spotlessly clean!
If we can't get your flooring and furnishings looking like new, then nobody can!
We Deliver On Our Promise
We offer a 100% guarantee – If you are not happy with our service, we will re-clean for free!
We offer a fantastic value service, our pricing is fair and transparent and our unique carpet and upholstery cleaning processes achieve fantastic results!
There are a number of payment options available to suit you. We are pleased to accept cash, cheque, debit or credit cards.
If you'd like to view our independently verified customer reviews, you can also find us on:
Specialist Cleaning & Restoration Services We Offer
We've invested thousands of hours and significant money in the best specialist training and machinery – learning and working with the very best in their respective fields.
We currently perform specialist cleaning and restoration work in the following disciplines:
Our carpet cleaning service is the bread and butter of our business and where we earned the reputation we enjoy today. We operate the latest, most advanced and powerful machine in South Wales and we guarantee you won't get better results from any company.
We're trusted to clean the carpets of the Inland Revenue, The Holiday Inn and the BBC among many others large organisations.
Our upholstery cleaning methods are safe and incredibly effective. The machine and the process we follow are perfect for delicate upholstery fibres and ensure they won't get over-wet during the cleaning process. We're the number 1 choice for homeowners who want a premium service and superior results for upholstery cleaning Cardiff and throughout South Wales.
Quality leather is an expensive investment that can last for many years – if correctly maintained. We clean and condition leather with the highest grade products to ensure it looks its very best while helping add years to its lifespan.
Hard Floor / Tile Cleaning & Restoration
We love working with natural stone. There's simply nothing more satisfying than seeing a tired and grubby floor transform in just a matter of a few hours. We know you will also love the end result.
Our service represents excellent value.
But, if price, rather than quality, is your only concern, I have no doubt you'll find cheaper (although far less capable and trustworthy) carpet cleaning companies out there.
Edwards Jeffery is a company that is focused on always putting you – our customer – first.
And that means getting the best possible results.
If you've ever hired a local carpet cleaning company but were a little disappointed in the results, we'd love to show you how we're different.
Areas we cover:
We would love the opportunity to be of service to you.
We provide carpet and upholstery cleaning throughout Cardiff and the surrounding areas including:
City Centre
Llandaff
Heath
Creigau
Canton
Cyncoed
Lisvane
Llanishen
In addition to Cardiff, we also service all areas within South Wales and Bristol, including Bridgend, Cowbridge, the Rhondda Valleys, Swansea and Gwent.
To book your same-day free quotation, simply call us now on 02921 990189 / 0800 028 2788 / 07530 532208 and we'll be delighted to help.

Cardiff Office
Jones Court
Womanby Street
Cardiff
CF10 1BR
T: 02921 990189
M: 07530 532208
Email: enquiries
Swansea Office
Princess House
Princess Way
Swansea
SA1 3LW
T: 0800 028 2788
M: 07530 532208
Email: enquiries
Bridgend Office
1 Vale Park
Bridgend
CF31 5EA
T: 01656 260118
M: 07530 532208
Email: enquiries